We offer a unique end table made of contrasting woods, spalted maple and cherry, and 4 original design embroidered panels. The "Four Seasons" Table features a West Virginia farm scene depicted in Spring, Summer, Fall and Winter. The table measures 18″x18″x27″.  Contact for purchasing information.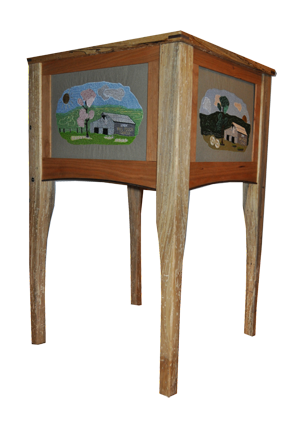 A table of the same dimensions is made of walnut and ash harvested from Marshall University during the Drinko Library construction. The panels are all orginal designs of Old Main, Memorial Fountain and a buffalo. We have obtained the license to use We Are…Marshall®.   Contact for purchase info.
A unique frame and shelf combination is our Diamond Frame.  Customization is available.  Contact for more information.
Embroidered designs © 2013 Gracie's Creek Specialties